Loading...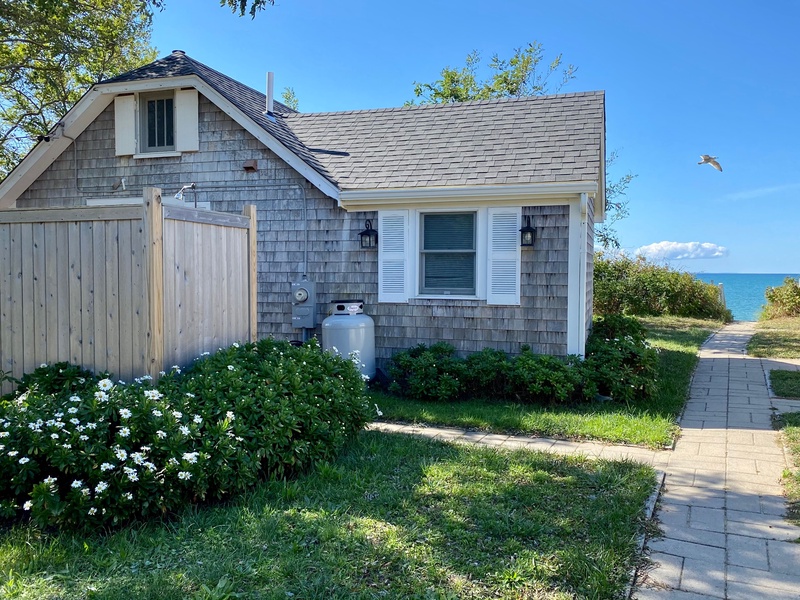 Bed Types: 1 Queen Beds, 1 Bunk Beds
*Cancellation policy at end of property description.*
Rolling tides, breathtaking sunsets and memories to last for a lifetime are waiting for you at this traditional 2Bd/1Ba waterfront cottage. Perfectly located atop a bluff at Campground Beach in North Eastham, the cottage provides private beach access to enjoy the Cape Cod tidal flats and sunbathing, as well comfortable space to grill under the stars. Situated on one floor, this cottage has a charming kitchen, water views from the living room and two bedrooms, which are equipped with a queen bed in the master bedroom and custom-built bunk beds in the second bedroom. Shower in the new constructed outdoor shower to wash away the sand and prepare to relax for the evening. Rent this cottage and neighboring home as summer compound to accommodate up to 10 guests.
Non-refundable $295 Administrative Fee, Cleaning Fee $100 plus applicable state and local taxes. Pets considered for dogs under 30lbs. for an additional $75. Linen package is available for 4 people upon request for an additional cost of $143.
Cancellation Policy:
If the Commonwealth of Massachusetts bans short-term rentals, you would receive a full refund. Otherwise, our standard cancellation policy is in effect:
In the event of cancellation for any reason, please contact us immediately followed by in writing. Written notice of cancellation must be accompanied by payment of a $295 cancellation fee to Gibson Sotheby's International Realty, which may be charged to a credit card.  Upon Notice of Cancellation, Gibson Sotheby's International Realty will endeavor to find a substitute tenant.  In the event a substitute tenant is found, monies paid in advance will be refunded, less a 20% service fee of the total rental amount due.  You herein acknowledge that you will only be entitled to a rebate only if you give written notice, pay the cancellation fee and the property is re-rented for the same terms and conditions of the original Agreement. For your protection, Gibson Sotheby's International Realty recommends the purchase of Optional Travel Insurance provided by CSA. In  the event the property does not rent for the same terms, all Guest payments for the entire agreement amount are due and forfeited to the owner.